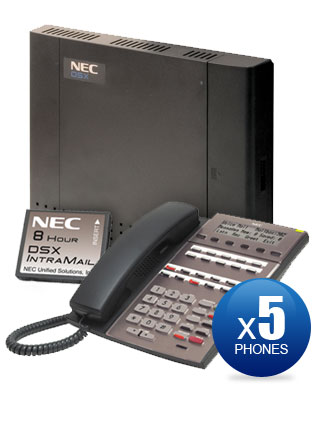 NEC DSX-40 Kit with (5) 22-Key Phones & Intramail Voicemail
Price: 1441.65
To purchase this item, please call us at 866-442-5525.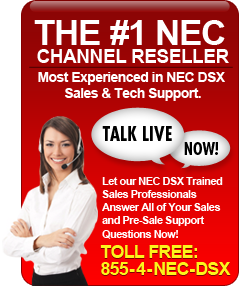 Free Extras
Free Tech Support
FREE 66 Install Block, Pre-Punched with Easy Plug-In Cables

A $48.00 Value

FREE 50-Word Custom Auto-Attendant Greeting

A $40.00 Value

FREE Pre-Installed Professionally Recorded Studio Quality Music On-Hold


A $30.00 Value

FREE PC Program Cable with Windows Program Software

A $4.00 Value

FREE Printable Phone Labels and Labeling Software

A $1.50 Value per Phone

FREE 3 Month Advance Replacement on all System Parts/PhonesFor the First 3 Months We Ship Brand New Replacement
Parts for FREE, and Pay Ground Shipping Both Ways!
FREE UPS Ground Shipping (Continental USA Only)
FREE 3 Months 1-on-1 Live Phone / Remote Access Programming Tech Support with a Certified NEC DSX Technician
FREE 10 Day Access to over 300 NEC DSX Video Tutorials to Assist you with Installation and Setup!*
FREE 6 Months E-Mail Tech Support
A $160.00 Total Value Worth
of Tech Support
This Package Includes:
(1) DSX-40 4 Slot KSU Cabinet

[1090001]

(5) 22-Key LCD Display Speaker Phones

[1090020]

Intramail 2 Port x 8 Hour 160 mailbox Voice Mail

[1091060]

All Equipment is Brand New with a 2 Year Factory Warranty
100% Satisfaction Guarantee Return Policy***
The DSX is VOIP Compatible to Take You in to the Future!
Ask Your Sales Rep for More Info
We Guarantee Complete Satisfaction or we'll Refund your Money!***
*10-Day Free Access to www.NEC-DSX-Programming.com is only available to customers who have purchased a phone system within the last 30 days. Free Trial Period must be activated within 30 days from the purchase date.
**Caller ID requires CID Service from your local phone service provider.
***See our Payments/Returns/Shipping page for complete details & Warranty information.