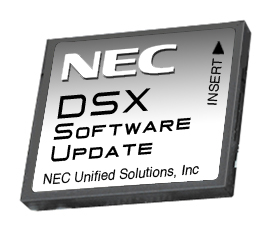 PRO Tech Support Upgrade Package
Price: 135.98
To purchase this item, please call us at 866-442-5525.
This Package Contains:
Compact flash card with the system latest software version
Up to one hour of 1-on-1 Live Phone / Remote Access Programming Tech Support with a Certified NEC DSX Technician
Professionally Recorded Studio Quality Music On-Hold

Pre-Installed Music On-Hold

Fully-Customizable 50-Word Custom Auto-Attendant Greeting

Pre-Installed Music On-Hold

Installation instructions
Why should I upgrade my phone system to the latest version?
New Message/Promotion on Hold and Music on Hold Options
Built-In Recordable Message On Hold with or without an Intramail voice mail:

Now you don't have to have voice mail (an Intramail card) to record your own Message On Hold or download a professionally recorded one from the DSX System Administrator!

Previously only available with IntraMail, the new system administrator makes it easy to load Message/Promotion on Hold, Music on Hold Options, Auto Attendant and all mailbox greetings.
New Voice Mail Options
Voice Mail Schedules:

For those of you with an IntraMail or IntraMail Pro using a part-time or overflow auto attendant: Have your night message start automatically without pressing a night key!

Use the new Line Scheduling to quickly set up how you want to handle incoming calls. It's easy to understand and intuitive to set up, yet has the power and flexibility to satisfy even complex call answering scenarios.

Skip Ahead, an important part of Line Scheduling, lets you press a key to skip ahead in your schedule. Have to leave early for the day? Just press Skip Ahead to activate the evening schedule. Starting early? Press Skip Ahead to advance from your overnight schedule to the normal workday schedule.

Voice Mail Skip Ahead:

Change the Automated Attendant greeting when you want Want to leave early and play your closed greeting? (Skip Ahead) Want to come in early and start taking calls or play your open greeting? (Ship Ahead)

Outside Caller Message Features:

Outside callers can now review there recorded message or erase and rerecord

Voice Mail Find Me follow Me*:

Find Me Follow Me helps an Automated Attendant caller locate an extension user who is not at their desk
*Requires IntraMail Pro

Cascading Message Notification*:

Cascading Message Notification will call an extension user at up to five preset destinations to let them know a new voice mail message has arrived
*Requires IntraMail Pro

Email Integration Name*:

When a voice message is left by an outside caller (with Caller ID provided), the email shows the Caller ID number and name
*Requires IntraMail Pro

Multilingual Voice Prompts:

IntraMail voice prompts are now available in three languages: English, Spanish, and French
New VoIP Options
VoIP Keysets:

Work, home, or at the remote office; Install DSX IP keysets on-premise in a managed network or off-site in a remote office.

Choose between two types of DSX IP extensions: the 34-Button Backlit Display and the 34-Button Backlit Super Display. These feature-rich IP keysets offer the same features as their digital counterparts, have Full Duplex speakerphones, and are quick to set up in an IP environment. Each DSX IP Keyset uses a single, low-profile Ethernet cable to the desktop connected to a compact, unobtrusive DSX IP Phone Adaptor.

Compliant third-party SIP phones, soft phones, and ATAs are also supported.

New in DSX v3.2 DSX
System Software Version 3.2 is an important new release that features three major VoIP enhancements:
Peer-to-Peer communication between IP extensions
NAT Traversal with Any Router
Improved ATA and SIP SLT Support

New in DSX v3.2 With Peer-to-Peer, DSX IP keysets and other SIP devices in the same office do not use VoIP Gateway ports when talking to each other. VoIP licenses are only required for calls to TDM resources and off-premise IP phones.
New in DSX v3.2 NAT Traversal with Any Router for DSX IP keysets means you no longer have to limit your remote offices to the LinkSys routers previously recommended.
More New Features and Options
Department Groups:

The 30 Department Groups replace the separate Ring Groups and UCD Groups, providing more group capacity and flexibility. Each Department Group can have a unique name to help keep track of programming.

Hot Dial Pad:

An extension user can dial a call without first lifting the handset or pressing any keys. You no longer need to hit intercom or speaker to dial an ext.*
Or
Just dial a phone number without lifting the handset or pressing the speaker key.*
*(depending on your prime line settings)

User Level Programming:

User Level Programming has an extensive face lift and functional overhaul, making it even more intuitive and easier to use.

Directory Dialing Search:

Quickly search through the directory for the co-worker or Speed Dial number you want to call.

Caller ID Manual Callback:

You are no longer required to program tables for Caller ID callback. The Caller ID Callback number can now be selected by the extension user.

Caller Timer without the need for a Key:

Now you can enable the Call Timer without having a separate Call Timer Feature Key.

Wireless Headset Adapter (WHA):

Provides full integration with Plantronics wireless headsets. Provides the same capability as the Plantronics HL-10 Handset Lifter.

CHECK Key Enhancements:

Pressing CHECK and a right-column Fixed Feature Key at any keyset extension displays important information about the system. This information includes extension data, licensing on IntraMail and VoIP, and important networking settings.
New T1 PRI Options
PRI Calling Party number:

The extension outbound PRI Calling Party Number option is expanded from four to 18 digits, allowing the system to send a unique 10-digit telephone number for each extension.

DID Translation Name:

A DID call can optionally display a unique name programming into the DID Translation Table for each entry. This makes it easier for the user to tell the nature of the call.